Ghipht Shop

Ghipht Shop is open
Saturdays from 6 p.m. to 7 p.m.
Sundays from 8:30 a.m. to 1:30 p.m.
Tuesday & Wednesday
5p.m. to 7 p.m.
_____________________________
Easter: May 29th
Solemnity of the Ascension or the Seventh Sunday of Easter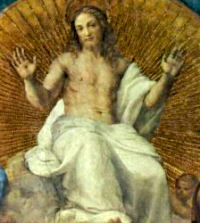 For Ascension Sunday: At the end of His earthly life, Jesus ascends triumphantly into heaven. The Church acclaims Him in His holy humanity, invited to sit on the Father's right hand and to share His glory. But Christ's Ascension is the pledge of our own. Filled with an immense hope, the Church looks up towards her leader, who precedes her into the heavenly home and takes her with Him in His own person: "for the Son of God, after incorporating in Himself those whom the devil's jealousy had banished from the earthly paradise, ascends again to His Father and takes them with Him" (St. Leo).
* * *
The Ghipht Shop is Highlighting this week...
Father's Day - June 19th, 2022
Father Mug $6
Our 10 oz. ceramic mug make a great gift. Perfect for Father's Day!
This Father mug features a sophisticated pattern that will appeal to dads of all ages and contains the verse Proverbs 20:7 - The righteous man walks in his integrity; His children are blessed after him.
* * *
Prayer for Peace for the World
St. Michael Wallet Sized Laminated Holy Card
$.50
Prayer to SAINT MICHAEL
Saint Michael the Archangel, defent us in battle. Be our protection against the wickedness and snares of the devil.
May God rebuke him, we humbly pray; and do thou, O Prince of the heavenly host, by the power of God, cast into hell Satan and all the evil spirits, who wander through the world seeking the ruin of souls. Amen.
* * *
2022 St. Joseph Sunday Missal $11
This easy-to-use 2022 Sunday Missal includes the complete Masses for all Sundays and Holy Days, along with the Easter Triduum. Features Order of the Mass in two colors and large type, people's parts in bold print for quick identification, large selection of more than 135 popular hymns and a Treasury of Prayers for Reconciliation, Holy Communion and more.
* * * * * * * *
We accept the following debit and credit cards.

* * * * * * * *
May 29
I am the gate. Whoever enters through me will be saved, and will come in and go out and find pasture.
-- John 10:9
The Gate
Whenever you find yourself unsure about a decision, stop. Seek the Lord. He is the gate through whom you must go in and out. HE will lead you to a good pasture, in His own good time.
* * * * * * * *
Come visit our Ghipht Shop

The Ghipht Shop is located to the right of our new church under the outside arches.
* * * *
Please support our advertisers!
Our advertisers can also be seen on our website. www.stmargaretbhc.com
SPACES ARE AVAILABLE!!
We have spaces that have become available. We offer great values advertising with us.
Our parishioners are very loyal to our advertisers, and will support your business.
GREAT OPPORTUNITY!
Please call
928-758-7117,
and leave a message, or e-mail rgilbert.stmm@gmail.com
Our prices are extremely reasonable and seen by many in our bulletin and on our website.
1 space for $252 for a full year!
Other sizes are available, and artwork is done with your direction by Rose Gilbert.
* * *
Please call if you are interested!
* * * * *
THANK YOU!
To all our advertisers who have continued to advertise with
St. Margaret Mary.
* * *
Please prayerfully consider advertising
with us.
It is a great value for the many viewers it allows your business to be exposed to,
in print and
on the internet!
It also helps the parish with the expense of printing our bulletin.
* * *
Parishioners of
St. Margaret Mary please support
our advertisers who so faithfully advertise in our church bulletin.
* * *
Our website offers our bulletin on-line in full color, including our advertising pages.
A wonderful additional way to have our faithful advertisers be seen by our parishioners, visitors, snow birds and now everyone on the web.
Stay connected with St. Margaret Mary anytime, and from anywhere.
THANK YOU to all our advertisers for their support.
Interested in Advertising?
Call Rose Gilbert
@ 928-758-7117 please leave a message.
Informational packets about advertising with us are available to pick up in the church office
Monday - Friday
8 a.m. - 7 p.m.
or e-mail
rgilbert.stmm@gmail.com