Ghipht Shop

Ghipht Shop is open
Saturdays from 6 p.m. to 7 p.m.
Sundays from 8:30 a.m. to 1:30 p.m.
Tuesday & Wednesday
5p.m. to 7 p.m.
_____________________________
Ordinary Time: March 14, 2021
Fourth Sunday of Lent
This Sunday is called "Laetare Sunday" in the Extraordinary Form of the Roman Rite since its mood and theme is one of hope and rejoicing that Easter is near. In the Ordinary Form this Sunday is not different from the other Sundays of Lent even though the entrance antiphon for the day still begins with the Latin word "laetare" and the vestments worn by the celebrant are rose-colored, not violet. The day is important because it is the day of the second scrutiny in preparation for the baptism of adults at the Easter Vigil.
* * *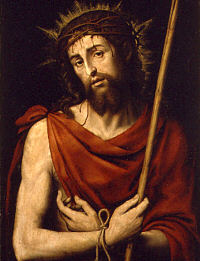 Lenten Season
The time has now come in the Church year for the solemn observance of the great central act of history, the redemption of the human race by our Lord and Savior Jesus Christ. In the Roman Rite, the beginning of the forty days of penance is marked with the austere symbol of ashes. The use of ashes is a survival from an ancient rite according to which converted sinners submitted themselves to canonical penance. The Alleluia and the Gloria are suppressed until Easter.
Abstinence from eating meat is to be observed on all Fridays during Lent. This applies to all persons 14 and older. The law of fasting on Ash Wednesday and Good Friday applies to all Catholics who have completed their eighteenth year to the beginning of the sixtieth year.
* * *
February 17th
Memorial of St. Patrick, bishop and confessor (Solemnity Australia, Ireland, Feast New Zealand, Scotland, Wales)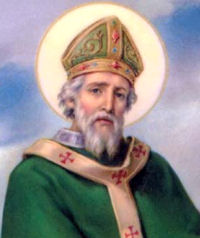 This is a day to honor and pray to St. Patrick. He was an influential saint who, 1,500 years ago, brought Christianity to the little country of Ireland. He was born about 385 in the British Isles, was carried off while still very young during a raid on Roman Britain by the Irish and sold as a slave. At the end of six years he contrived to escape to Europe, became a monk and was ordained; he then returned to Ireland to preach the Gospel. During the thirty years that his missionary labors continued he covered the Island with churches and monasteries; in 444 he founded the metropolitan see of Armagh. St. Patrick died in 461. After fifteen centuries he remains for all Irishmen the great bishop whom they venerate as their father in the Faith.
The Ghipht Shop is Highlighing this week...
Irish Rosary
$10
Irish Celtic Rosary with Celtic cross

Green Glass crystal beads, Acrylic 6 mm AB Bead

Silver tone, finley detailed

Blessed Virgin Silver tone centerpiece medallion

17 inches length
* * *
Only 30 left!
Misal 2021
Para Todos los domingos y fiestas del ano
$12
* * *
We accept the following debit and credit cards.

* * * * * * * *
SCRIPTURE DAY BY DAY
"Remember to keep holy the sabbath day."
-- Exodus 20:8
Keep Holy the Sabbath
On the seventh day the Lord rested; He directs you to do the same. It is a day holy unto Him. Give yourself and your loved ones the gift of obedient rest. Honor the Lord on the first day and you will realize His blessings the rest of the week as well. Remember to keep holy the Sabbath.
* * * * * * * *
Come visit our Ghipht Shop

The Ghipht Shop is located to the right of our new church under the outside arches.
* * * *
During this difficult and challenging times we ask you to support our advertisiers in any way you can.
Our advertisers can also be seen on our website. www.stmargaretbhc.com
Stay safe,
stay healthy,
and pray.
EXCITING NEWS!
We are going into our NEW Advertising year July 2020 to June 2021
GREAT OPPORTUNITY!
There are many spaces available for new, and returning advertisers!
Please call 928-758-7117, and leave message, or e-mail rgilbert.stmm@gmail.com
Our prices are extremely reasonable and seen by many in our bulletin and on our website.
1 space for $252 for a full year!
* * *
Please call if you are interested!
* * * * *
THANK YOU!
To all our advertisers who have continued to advertise with
St. Margaret Mary.
* * *
Please prayerfully consider advertising
with us.
It is a great value for the many viewers it allows your business to be exposed to,
in print and
on the internet!
It also helps the parish with the expense of printing our bulletin.
* * *
Parishioners of
St. Margaret Mary please support
our advertisers who so faithfully advertise in our church bulletin.
* * *
Our website offers our bulletin on-line in full color, including our advertising pages.
A wonderful additional way to have our faithful advertisers be seen by our parishioners, visitors, snow birds and now everyone on the web.
Stay connected with St. Margaret Mary anytime, and from anywhere.
THANK YOU to all our advertisers for their support.
Interested in Advertising?
Call Rose Gilbert
@ 928-758-7117 please leave a message.
Informational packets about advertising with us are available to pick up in the church office
Monday - Friday
8 a.m. - 7 p.m.
or e-mail
rgilbert.stmm@gmail.com